Disk Space Test

| Drive | Capacity | Recycle Bin | Recycle % |
| --- | --- | --- | --- |
---

About Disk Space and Junk Files
Junk files come from several sources. One is the Recycle Bin. Files are not actually removed from the drive when you delete them using Explorer. Instead, the files are moved to the Recycle Bin where you can retrieve them if you later decide that you should not have deleted them. However, the files in the Recycle Bin can use up a lot of space, and can contribute to disk fragmentation problems. Empty your Recycle Bin to reclaim this disk space.
In addition, Windows and applications create various temporary files while running that are not needed after the application exits or Windows is shut down. In many cases, however, the applications do not always clean up after themselves. One example is the files in the Internet Explorer cache. These files will take up disk space unless you delete them. Several methods for cleaning up junk files are discussed below.
---

Solutions
PC Pitstop Optimize is an easy to use application that quickly cleans up these unnecessary files. If you do not use PC Pitstop Optimize, you can do some cleanup manually: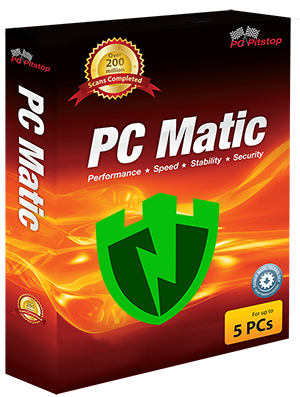 Like OverDrive?
You will love PC Matic.
PC Matic is the collection of all of PC Pitstop's technologies under one hood and one integrated architecture.
Boost your computer's performance and keep it secure!
Clear the Internet Explorer cache: Start IE and click . On the General tab click the Delete Files button.
Totally clear the IE cache: There is a bug in Internet Explorer that will leave files behind even after you clear the cache as described above. To completely clear the cache see our tip on IE cache overflow.
Clear the Netscape cache: Start Navigator/Mozilla and click . Click the Clear Disk Cache button.
Delete temporary files: Click to have Windows identify and remove files that are not needed. (If Disk Cleanup hangs at "Compress Old Files" see Microsoft article 812248.)
Delete ScanDisk files: Start Windows Explorer and look in the root of your C drive. Delete any files there that have names of the form FILE0000.CHK.