AutoFix Repairs
You're ready to run the Internet Speed AutoFix. Here's how:
Note: Your antivirus software may warn of virus-like activity when you run the AutoFix. This is not a virus.
Questions? Problems? Check the AutoFix instructions or post a question on our support forums.
More PC Pitstop downloads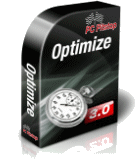 PC Pitstop Optimize removes unnecessary files to free up hard disk space, turbocharges your Internet settings, cleans out invalid registry keys to make your system more stable, and tweaks settings to increase system performance. Try it!