WMI Installation Status
Our tests use Windows Management Instrumentation (WMI) to gather some of the system configuration data from your system. If WMI is not working properly, it could cause certain information to be reported incorrectly by PC Pitstop.
An error occurred while running the detection script, or the script may still be loading.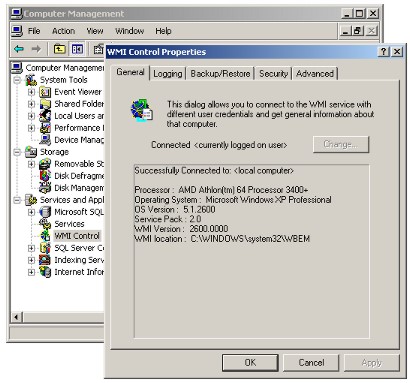 A system can have WMI problems yet appear to run properly most of the time. That is because WMI is most often used by system diagnostics. A word processor, spreadsheet, or email program rarely depends on WMI. As another check of your system's WMI status, you can use this procedure:
Right-click the My Computer icon and select Manage. (Alternate: Click Start, Control Panel, Administrative Tools, Computer Management.)
Left-click the [+] next to Services and Applications to expand the tree view.
Left-click on WMI Control.
Now, right-click on the same WMI Control item and select Properties.
If WMI is working properly, you will see "Successfully connected to <local computer>".
If WMI is broken, you will see one or more error messages in the dialog.
How To Fix WMI
WMI is pre-installed with Windows 2000, Windows XP, Windows Server 2003, Windows Vista, and Window Server 2008. In rare circumstances, it becomes corrupted. Once corrupted, it can sometimes be fixed relatively easily; in more extreme cases, you will have to repair or reinstall Windows itself.
You can find a Microsoft diagnosis utility for WMI discussed here. This utility, which does not use WMI itself, can tell you the current state of WMI on your computer. The WMI Diagnosis Utility was designed for use by experienced Windows administrators. If you are computer-savvy, then the WMI Diagnosis Utility is probably the place for you to start: use the download link at the top left of the page to get the utility, and then run it and follow the instructions.
Additional instructions for diagnosing and repairing WMI can be found at http://www.microsoft.com/technet/scriptcenter/topics/help/wmi.mspx. This article was written for software developers who are having trouble with their WMI scripts. It assumes a high level of Windows scripting knowledge, but it has some valuable information about what can go wrong with WMI.
An unofficial procedure for fixing one common WMI problem compiled by the Technology Support Center at Ohio State University can be found out http://8help.osu.edu/3618.html. This procedure assumes that you are running Windows Vista and requires you either to use the Local Users and Groups administration tool or issue a series of commands from a Windows Command Shell started as Administrator.
A tutorial about fixing WMI corruption problems by rebuilding the repository, written by a freelance programmer named Katy Coe can be found at http://www.djkaty.com/drupal/wmicorruption. This is just one of the WMI repair procedures described by Microsoft at http://www.microsoft.com/technet/scriptcenter/topics/help/wmi.mspx, but Katy has written an easier-to-follow procedure, with more explanations and illustrations than Microsoft supplies.
If all else fails, try allowing Windows to repair itself or reinstall itself in the previous location (usually C:\WINDOWS). This is an extreme step, and we recommend that you back up your computer before attempting it. It often takes several hours for a Windows repair: don't start it when you're rushed for time or need your computer right away. On the other hand, this solution almost always works.