Eighty-Seven Percent of WhenU
Users Are Unaware They Are Using It
Note: This report was originally published in April 2004 and submitted to the US Federal Trade Commission for their Spyware Workshop. A followup report with updated data was published in April 2005.
Introduction
In the issue of spyware and adware, there are divergent opinions on whether users are aware of the terms of the software and have actually agreed to them. On September 5, 2003, a judge granted the adware maker WhenU a summary judgment in a suit filed by U-Haul Corporation. In his opinion, the judge wrote:
"The fact is that the computer user consented to this detour when the user downloaded WhenU's computer software."
Avi Naider, CEO of WhenU, testified in front of a United States Senate subcommittee on March 23, 2004:
"Regardless of the method of distribution, during the installation process, the consumer always receives a prior notice that SaveNow is part of the download."
Underlying both of these statements is the assumption that most WhenU users are fully aware of the software and knowingly consent to installing it. PC Pitstop decided to explore through quantifiable objective research whether this assumption could be substantiated.
Methodology
PC Pitstop runs a free and popular PC diagnostic web site. After running a quick five-minute diagnostic of their systems, users are presented with a detailed analysis and recommendations on how to improve system performance and stability. Beginning in March 2003, the tests showed the following questions to WhenU users after the tests had run, and before the test results were displayed.
We have detected one or more programs installed on your PC that were created by the WhenU Corporation. These programs display advertising based on the web sites you visit and other data they collect while you use your computer. Programs include WhenUShop, WeatherCast, ClockSync, SaveNow, and PriceBandit. Which of the following matches your WhenU installation experience?
I did not know a WhenU or SaveNow application was installed.
I did not read the WhenU license agreement.
I spent five minutes or less reading the WhenUlicense.
I spent five to fifteen minutes reading the WhenU license.
I spent more than fifteen minutes reading the WhenU license.
The user's response was logged in our database. The question was only presented once per computer tested, even if the computer was tested multiple times.
The Results
The survey was run from March 26, 2004 to March 31, 2004 and 519 WhenU respondents were queried. Our first finding is that Gator/GAIN/Claria is over 3 times as large as WhenU in terms of installed base at PC Pitstop.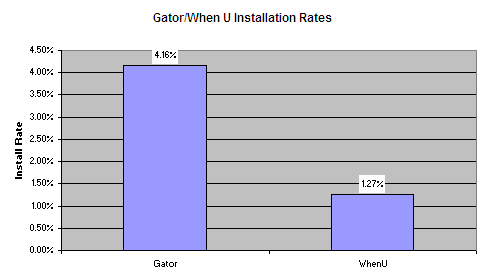 To provide a useful baseline against which to compare our WhenU and Gator survey results, we changed our survey on April 6, 2004 to ask the same question of AVG users.
Grisoft's AVG Antivirus program appears to be installed on your PC, and would appreciate your participation in a survey we are conducting on software installation practices. Which of the following matches your AVG Antivirus installation experience?
I did not know AVG Antivirus was installed.
I did not read the AVG Antivirus license agreement.
I spent five minutes or less reading the AVG license.
I spent five to fifteen minutes reading the AVG license.
I spent more than fifteen minutes reading the AVG license.
We chose AVG because it is free and it is distributed via the Internet, as are Claria and WhenU products. Also, AVG runs in the background, making its presence on the user's system similar to that of software from Claria and WhenU.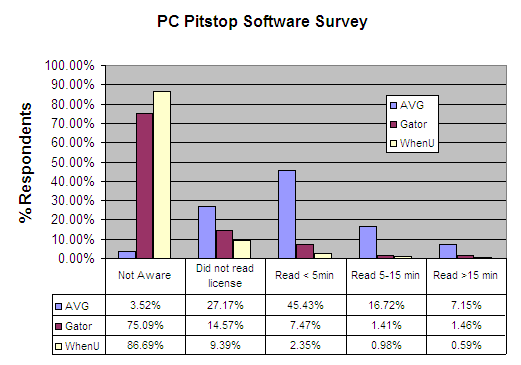 Our survey shows that significant numbers of people are not reading the license agreements of any of these programs. When we focus on the question of awareness, however, the differences between AVG users and the users of WhenU and Claria products are stark. Claria and WhenU users are mostly unaware that the software is installed on their PC, whereas virtually all of the AVG users are aware of it.
Conclusions
Almost by definition, people cannot accept a click-through license agreement if they are unaware that the software has been installed. We believe that this is the largest problem with this class of software and must be addressed by the US Federal Trade Commission. Regulations should standardize and simplify the way that consumers are notified of software license terms, and the installation process should allow the consumer to clearly acknowledge the installation of software and to easily determine when the software was installed.