ALL NEW PC Pitstop Driver Alert 2.0
ALL NEW! DriverMatic
Automatically download and install drivers for your PC.
Scheduler
Schedule scans on any PC from any PC.
Drivers Made Easy
Scan your PCs once, and receive a monthly report of all your PCs and all your drivers.
Scans Are Free
Whether you opt for Driver Alert Notification Service, our scans are always free.
Informative and Easy
Simple to use with many built in help buttons to guide you through the application.
Introducing DriverMatic - automatically download and install drivers using Driver Alert's DriverMatic feature.
Drivers are the basic software that allow other applications to talk with your hardware devices. Just like other software applications, many drivers are frequently updated to eliminate bugs and add new features.
With DriverMatic we have standardized the packaging of the drivers, so that a new driver can be installed with the click of a button. No more reading README.TXT or installation instructions. Just click on the button, we take care of the rest. Now that drivers have been standardized, you can also automatically keep your drivers up to date in the background.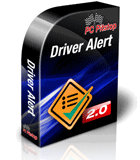 Fast download, easy to install
Scan your PC Now!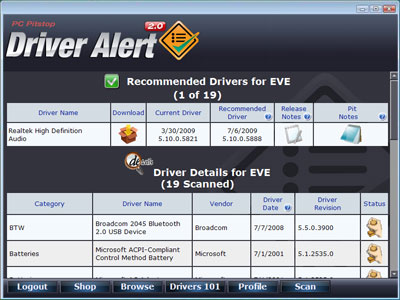 PC Pitstop Driver Alert finds the latest drivers for any PC running Windows Vista or Windows XP.
Scan Now!
In order to get the most from your PC, it is good practice to keep your drivers up-to-date. But few people do, because your system has so many drivers, and there are so many updates. Driver Alert makes it easy, by matching the latest drivers to your system. Our Driver Alert Notification Service will keep you abreast of the driver status of your PCs through the comfort of your inbox.
PC Pitstop has helped millions of computer users through our free and automated diagnostics. Through these millions of interactions, PC Pitstop has developed best-of-breed applications such as Optimize, Exterminate, Disk MD, and Erase. Driver Alert continues the tradition.
Application Features and Benefits
NEW! Install drivers with one click using DriverMatic.
Scan each PC once, and we do the rest.
Latest driver info for all your PCs delivered to your inbox.
The Driver Browser tracks all your PCs in one place.
Pitstop Notes provide further insight driver revisions.
Links to manufacturer's release notes when available.
Developed by PC Pitstop, the leader in PC performance and diagnostics.
If you have further questions on Driver Alert before or after you buy, participate in discussion forums or check out the frequently asked questions. For questions related to your purchase, use our customer service page. The trial version is limited to scan only. Click here to purchase a Driver Alert 1-year subscription now starting at $29.99.