What your computer knows might hurt you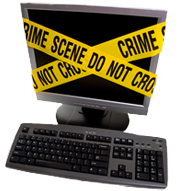 Windows is storing virtually everything you do on your computer. Every web site that you visit, every document that you open is being stored in a humongous archive somewhere on your PC. Supposedly, this makes your computer easier to use.
On the other hand, it is also an easily accessible, detailed report of everything that you have done on your computer. PC Magnum is a unique privacy product that removes this potentially embarrassing and private information, allowing you to control what others may learn about you and your computer habits if your PC is accessed without your knowledge.
Automated Cleaning

PC Magnum takes the grind out of keeping your PC clean using advanced cloud technology. Set up schedules for all of your PCs from any PC with PC Magnum.
With the PC Magnum scheduler, you don't have to worry about constantly covering up your digital paper trail. All potentially incriminating and embarrassing PC access records will be erased automatically.
Technical Specifications
PC Magnum scans for and cleans or removes:
IE Cookies
Firefox Cookies
Chrome Cookies
IE Browsing History
Firefox Browsing History
Chrome Browsing History
IE Image Cache
Firefox Image Cache
Chrome Image Cache
IE Typed URLs
Firefox Download History
Chrome Download History
Facebook History
Recent Excel Documents
Recent Word Documents
Recent PowerPoint Documents
Recent PDF Documents
Other Recent Documents
Recycle Bin
Cookies can track you online

Internet cookies can track your browsing habits without your knowledge. PC Magnum scans for cookies inserted by websites you have visited recently and removes them.

Racy images don't remove themselves

All the images your web browser has ever downloaded and displayed are saved in your browser cache. PC Magnum scans Firefox, Internet Explorer, and Chrome for cached images and deletes them for you.

"Delete" Doesn't mean what you think

Just putting a file in the recycle bin doesn't delete it from your PC. PC Magnum empties your recycle bin if you forgot to empty it manually.

Is your browsing history embarrassing?

Browsers keep a detailed list of how many times and when you have visited each website. Your PC may have records dating back to your PC purchase. PC Magnum deletes browsing history in Firefox, Internet Explorer, and Chrome.

Recent files can reveal sensitive info

Every image, movie, audio, office, and pdf document opened recently are chronicled in Windows. PC Magnum resets the list so your document history remains private.

Even facebook pictures are public

Facebook is not exempt from the same caching and history recording as other websites. Anything you have viewed on Facebook is logged in your PC. PC Magnum removes all references to Facebook cached images on your PC.
Start Your FREE PC Privacy Scan Now!