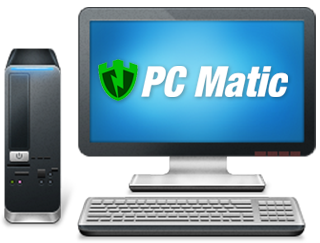 Speed, Stability & Security!
Absolute protection against modern threats
Keeps your computers running like new
Improves internet browsing
Makes your PC more reliable and stable
30 day money-back guarantee
Buy Now
Free Download
**Purchase PC Matic and receive FREE Cyber Security Training**
Information regarding access to KnowBe4 training will be included in receipt email upon completion of PC Matic license purchase Learn More.
If you are already a PC Matic user and want to utilize this service, you can obtain the access information by contacting us at pcmatic.com/help
There is now one product that performs all of the maintenance to ensure that your computers are running at peak performance and stability while providing maximum security. All for a reasonable price.
PC Matic provides the best protection against modern threats by utilizing a white list that allows only trusted applications to run and blocking the polymorphic viruses that escape most security products today. PC Matic also blocks annoying adware and PC Matic automatically closes the security holes in software such as Java and Flash. PC Matic provides many layers of security that traditional security products do not.
Security software is notorious for providing security at the expense of PC performance. PC Matic makes sure that your PC is always running at optimal performance - prolonging the usable life of the device.
PC Matic is developed and supported in the United States by PC Pitstop LLC. PC Pitstop was founded in November 1999, and made its reputation as a very popular web site for diagnosing common computer problems in performance and security.
Defragments disks
Updates drivers
Fixes software vulnerabilities
Updates common software automatically
Cleans registry
Removes junk files
Optimizes broadband
Scans and cleans security threats
Measures performance with a benchmark suite
Protects absolutely against modern security threats
Optimizes SSD
Deactivates unnecessary Windows tasks
Removes unnecessary start up applications
Disables resource hogging start up services
Accelerates downloads in FF and IE
Maintain and manage your PCs remotely
Schedule computer maintenance automatically
Detailed maintenance, security, and performance reporting
Easy to use
One integrated product does all this!
Software Requirements
Operating System: Microsoft Windows 10, 8, 7, Vista and XP
Hardware Requirements
Processor: 1GHz or greater
Memory: 512 MB or greater
Hard Disk: Need 1GB or more of free space
Video: Super VGA, 15-inch monitor, 800x600 resolution
Internet Connection Required
Broadband connection highly recommended
Available languages : English, Spanish, Japanese, Portguese, Italian, German, French
Customer Support
Please fill out the form at Our Support Page and our Helpdesk team will get back to you within 24 business hours.
What is PC Matic Evergreen
With PC Matic EverGreen you can use PC Matic indefinitely and continue to get all the upgrades and feature enhancements for FREE. Other software companies offer perpetual licenses that lock you into a particular version and charge you when it is time to upgrade. Not with EverGreen! You will never have to spend more money to get the latest and greatest version of PC Matic.
PC Matic Supports Windows XP
On April 8, 2014, Microsoft discontinued support for their incredibly successful operating system, Windows XP. Microsoft no longer offers security patches, and support for Microsoft Security Essentials for the 13 year old operating system. Despite the fact that XP still represents over 20% of all Windows users, Microsoft offers two solutions. 1) Upgrade to Windows 8 or 2) Purchase a new computer with Windows 8. Although Microsoft suggests that they no longer can afford to support these users, it appears that it is more of an effort to create incentive to sell their latest struggling operating system, Windows 8.
Under this back drop, we have decided to continue support for Windows XP for as long as there is demand. We believe that computers do not grow old if they are properly maintained. On top of that, our unique security including application white listing will continue to support all recent versions of Windows including XP.
PC Pitstop, LLC. EULA
PC Pitstop PC Matic Copyright (c) 2009 PC Pitstop LLC - All Rights Reserved
NOTICE TO ALL USERS
Carefully read the following legal agreement ("agreement"), which sets forth license terms for PC Pitstop PC Matic software. BY INSTALLING PC Pitstop PC Matic, YOU (EITHER AN INDIVIDUAL OR A SINGLE ENTITY) CONSENT TO BE BOUND BY AND BECOME A PARTY TO THIS AGREEMENT. If someone else uses a copy of PC Pitstop PC Matic installed by you, he or she may do so only subject to all conditions, obligations and limits described in this Agreement.
LICENSE GRANT
PC Pitstop LLC hereby license you for unlimited use of PC Pitstop PC Matic on your personal computer(s), such as desktop and laptop, or for multiple users on a single personal computer, but not both, and to make one copy in machine-readable form for backup purposes only. "You" means the company, entity or individual. "Use" means storing, loading, installing, executing or displaying PC Pitstop PC Matic. Within any such copy, you must reproduce the copyright notices and any other proprietary legends that were on the original downloaded copy of PC Pitstop PC Matic. No license, right or interest in any trademark, trade name or service mark of PC Pitstop LLC or any third party is granted under this License. You may not modify PC Pitstop PC Matic or disable any licensing or control features of PC Pitstop PC Matic except as an intended part of PC Pitstop PC Matic's programming features. This license is not transferable another organization or individual. Any reproduction or redistribution of PC Pitstop PC Matic not in accordance with the License Agreement is prohibited by law, and may result in severe civil and criminal penalties. Violators will be prosecuted to the maximum extent allowable by law.
COPYRIGHT AND TITLE
PC Pitstop PC Matic is protected by United States copyright laws and international treaty provisions. PC Pitstop PC Matic and its suppliers own and retain all right, title and interest in and to PC Pitstop PC Matic, including all copyrights, patents, trade secret rights, trademarks and other intellectual property rights therein. You acknowledge that your possession, installation, or use of PC Pitstop PC Matic does not transfer to you any title to the intellectual property in PC Pitstop PC Matic, and that you will not acquire any rights to PC Pitstop PC Matic except as expressly set forth in this Agreement. You agree that any copies of PC Pitstop PC Matic and Documentation will contain the same proprietary notices that appear on and in PC Pitstop PC Matic and Documentation.
RESTRICTIONS
You may not rent, lease, loan or resell PC Pitstop PC Matic. You may not permit third parties to benefit from the use or functionality of PC Pitstop PC Matic via a timesharing, service bureau or other arrangement. You may not transfer any of the rights granted to you under this Agreement. You may not reverse engineer, decompile, or disassemble PC Pitstop PC Matic, except to the extent that the foregoing restriction is expressly prohibited by applicable law. You may not modify, or create derivative works based upon, PC Pitstop PC Matic in whole or in part. You may not copy PC Pitstop PC Matic or Documentation except as expressly permitted above. You may not remove any proprietary notices or labels on PC Pitstop PC Matic.
TERMINATION
This License is effective until terminated. You may terminate this License at any time by destroying PC Pitstop PC Matic, and all copies thereof. This License will be construed as terminated immediately and without notice from PC Pitstop LLC if you fail to comply with any provision of this License. If this license is terminated for any reason, you must destroy PC Pitstop PC Matic and all copies thereof.
EXPORT CONTROLS
You may not download or otherwise export or reexport the Software or any underlying information or technology except in full compliance with all laws of the United States and other applicable laws and regulations.
GOVERNING LAW
This license will be governed by the laws of the state of South Dakota and United States federal law as they are applied to agreements between United States residents entered into and to be performed entirely within the United States.
DISCLAIMER OF WARRANTY
PC Pitstop PC Matic AND THE ACCOMPANYING FILES ARE SOLD "AS IS" AND WITHOUT WARRANTIES AS TO PERFORMANCE OF MERCHANTABILITY, FITNESS FOR A PARTICULAR PURPOSE, OR ANY OTHER WARRANTIES EXPRESSED OR IMPLIED. SOME JURISDICTIONS DO NOT ALLOW THE EXCLUSION OF IMPLIED WARRANTIES OR LIMITATIONS ON HOW LONG AN IMPLIED WARRANTY MAY LAST, OR THE EXCLUSION OR LIMITATION OF INCIDENTAL OR CONSEQUENTIAL DAMAGES, SO THE ABOVE LIMITATIONS OR EXCLUSIONS MAY NOT APPLY TO YOU. THIS WARRANTY GIVES YOU SPECIFIC LEGAL RIGHTS AND YOU MAY ALSO HAVE OTHER RIGHTS WHICH VARY FROM JURISDICTION TO JURISDICTION.
NO LIABILITY FOR CONSEQUENTIAL DAMAGES
IN NO EVENT SHALL PC Pitstop LLC OR ITS SUPPLIERS BE LIABLE TO YOU FOR ANY CONSEQUENTIAL, SPECIAL, INCIDENTAL OR INDIRECT DAMAGES OF ANY KIND ARISING OUT OF THE DELIVERY, PERFORMANCE OR USE OF, OR INABILITY TO USE, PC Pitstop PC Matic, EVEN IF PC Pitstop LLC HAVE BEEN ADVISED OF THE POSSIBILITY OF SUCH DAMAGES. SEVERABILITY
In the event of invalidity of any provision of this license, the parties agree that such invalidity shall not affect the validity of the remaining portions of this license.
ENTIRE AGREEMENT
This is the entire agreement between you, PC Pitstop LLC, which supersedes any prior agreement or understanding, whether written or oral, relating to the subject matter of this license.