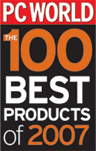 July 2007
Tool of the Month



June 2006
WinPatrol is a must-have tool:
It helps keep your system tray free of clutter and warns you when a program insists on loading at system boot-up. The latest version -- WinPatrol 2013 -- has Delayed Start, a smart feature that lets you delay launch of non-essential programs for up to an hour after the system boots, so Windows loads faster. That's ideal timing for applications such as backup programs. Also is a right-click function that opens the startup program's folder in Windows Explorer. WinPatrol Plus costs $30 (and I promise you, it's worth the money)...
- Steve Bass,





"WinPatrol consumes few resources and doesn't slow your PC."


"Explore deep into your system and understand what programs are installed and why. It's great!"
WinPatrol Plus uses a heuristic behavioral approach to detecting attacks and violations of your computing environment. Traditional security programs scan your hard drive searching for previously identified threats. WinPatrol Plus takes snapshot of your critical system resources and alerts you to any changes that may occur without your knowledge. You'll be removing dangerous new programs while others prepare to update their definition/signature data files.
As a MULTI PURPOSE SUPPORT UTILITY WinPatrol Plus replaces multiple system utilities with its enhanced functionality. WinPatrol PLUS provides easy to understand descriptions of over 15,000 programs.
As a robust SECURITY MONITOR, WinPatrol will alert you to hijackings, malware attacks and critical changes made to your computer without your permission. WinPatrol PLUS includes our unique, patent pending R.I.D. technology.
Why You Need WinPatrol
If you've wondered why you need WinPatrol just read what Microsoft has discovered in their malware research. "In the fourth quarter of 2011 alone, Conficker was detected on 1.7 million systems worldwide". This infection is still increasing even though it's well known to all popular security programs and simple Windows security updates will prevent it from spreading.
You need extra help and WinPatrol is still designed to monitor locations ignored by traditional security software. Contrary to what they might read you from a support script, WinPatrol works and plays well with others. You can run WinPatrol along side your favorite Anti-Malware package and you'll never detect any difference in performance.
Features
Uninstall Detection
Start Program Removed Detection
Windows XP Kill Task
Premium Access to WinPatrol PLUS Knowledgebase (24/7)
Automatically respond and/hide specific alerts
Real-time Infiltration Detection without slowing you down
Explorer Integration of PLUS Info
Up to 30% Faster Performance
Detect and Review New Auto-Startup Programs
Get Alerts when a Setting Changes
Alerts you to New Browser Add-Ons like BHO's and Tool Bars
Alerts you to newly installed Window Services
Alerts you to creation of Scheduled Tasks
Alerts you and Locks Changes to File Type Associations
Alerts you to newly registered ActiveX components
Alerts you to changes in IE Home and Search pages
Alerts you to changes in the Windows HOST File
Lets you know if your AutoUpdate or UAC settings change
Control your PC Settings
Add/Remove and Review Auto-Startup Programs
Automatically Disable Reoccurring Startup Programs
Delay Auto-Startup programs for quick bootup
Review and Remove unwanted Scheduled Tasks
Remove Unwanted Browser Add-Ons like BHO's and Tool Bars
Review, Display and Kill Multiple Running Tasks with a single click
Review, Stop and Control Window Services
Manage and Automatically Remove Unwanted Cookies
Review and Edit your Windows HOST File
Review and Remove Hidden Files
Track Date/Time when programs are first detected on your system
Multiple System Report Options
Inspect Undocumented or HIDDEN Registry Startup Keys
Review and Remove ActiveX components
Other Features
WinPatrol.exe is only 374 KB. You won't find a smaller Windows system monitor as powerful as WinPatrol.
WinPatrol has been specifically enhanced to work better with Windows Vista and Windows 7. Support for Firefox 3 and Google Chrome's SQLite format is also included for the most control over your browsing experience. WinPatrol.exe has been optimized to handle the results of any Windows hooks in it's own code space thereby reducing conflicts with other security programs.
Don't forget to look at the "Recent" tab, which lets you see new programs and settings recently added to your computer. It's especially helpful in finding malware that comes with multiple randomly named files
If you already have Winpatrol there is no need to Uninstall previous versions. Install the new WinPatrol in the same folder as your current version.