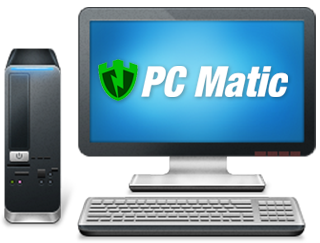 Speed, Stability & Security!
Absolute protection against modern threats
Keeps your computers running like new
Improves internet browsing
Makes your PC more reliable and stable
30 day money-back guarantee
Buy Now
Free Download
There is now one product that performs all of the maintenance to ensure that your computers are running at peak performance and stability while providing maximum security. All for a reasonable price.
PC Matic provides the best protection against modern threats by utilizing a white list that allows only trusted applications to run and blocking the polymorphic viruses that escape most security products today. PC Matic also blocks annoying adware and PC Matic automatically closes the security holes in software such as Java and Flash. PC Matic provides many layers of security that traditional security products do not.
Read PC Matic Reviews from PC Matic Users
Security software is notorious for providing security at the expense of PC performance. PC Matic makes sure that your PC is always running at optimal performance - prolonging the usable life of the device.
PC Matic is developed and supported in the United States by PC Pitstop LLC. PC Pitstop was founded in November 1999, and made its reputation as a very popular web site for diagnosing common computer problems in performance and security.
Defragments disks
Updates drivers
Fixes software vulnerabilities
Updates common software automatically
Cleans registry
Removes junk files
Optimizes broadband
Scans and cleans security threats
Measures performance with a benchmark suite
Protects absolutely against modern security threats
Optimizes SSD
Deactivates unnecessary Windows tasks
Removes unnecessary start up applications
Disables resource hogging start up services
Accelerates downloads in FF and IE
Maintain and manage your PCs remotely
Schedule computer maintenance automatically
Detailed maintenance, security, and performance reporting
Easy to use
One integrated product does all this!
Software Requirements
Operating System: Microsoft Windows 8, 7, Vista and XP
Hardware Requirements
Processor: 1GHz or greater
Memory: 512 MB or greater
Hard Disk: Need 1GB or more of free space
Video: Super VGA, 15-inch monitor, 800x600 resolution
Internet Connection Required
Broadband connection highly recommended
Available languages
English, Spanish, Japanese, Portguese, Italian, German, French
Customer Support
Please fill out the form at Our Support Page and our Helpdesk team will get back to you within 24 business hours.
What is PC Matic Evergreen
With PC Matic EverGreen you can use PC Matic indefinitely and continue to get all the upgrades and feature enhancements for FREE. Other software companies offer perpetual licenses that lock you into a particular version and charge you when it is time to upgrade. Not with EverGreen! You will never have to spend more money to get the latest and greatest version of PC Matic.
PC Matic Supports Windows XP
Microsoft has announced that on April 8, 2014, the Redmond company, will cease to offer support for their incredibly successful operating system, Windows XP. Microsoft will stop offering security patches, and support for Microsoft Security Essentials for the 13 year old operating system. Despite the fact that XP still represents over 20% of all Windows users, Microsoft offers two solutions. 1) Upgrade to Windows 8 or 2) Purchase a new computer with Windows 8. Although Microsoft suggests that they no longer can afford to support these users, it appears that it is more of an effort to create incentive to sell their latest struggling operating system, Windows 8.
Under this back drop, we have decided to continue support for Windows XP for as long as there is demand. We believe that computers do not grow old if they are properly maintained. On top of that, our unique security including application white listing will continue to support all recent versions of Windows including XP.