Every day your PC is in use, files are being written and erased from your hard drive. Over the space of days, months and years, your hard drive becomes fragmented. The performance benefits to disk defragmentation can be enormous. We have observed real life systems with files that have as many as 10,000 fragments! In these cases, your hard drive begins thrashing and the time to read a file increases by over a hundred times.
Compatible with Microsoft Windows 7, Vista, and XP.
Fast download, easy to install
Scan your PC Now!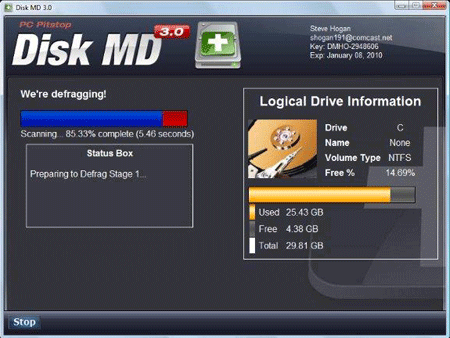 PC Pitstop Disk MD helps the disk health for any PC running Windows Vista, Windows XP or 2000.
Scan Now!
NEW Features and Benefits
NEW! Schedule Defrag Scans - Defragment when and where you want.
NEW! Historical Reporting - Access any of your saved scan results
NEW! Receive Defrag Scan Result Reports Via Email
NEW! Detailed File Size Analysis - View Your Top 10 Largest Files
NEW! Detailed Disk Composition Analysis - (Video, Audio, Pictures ...)
NEW! Detailed Disk Allocation Analysis
NEW! Streamlined User Interface - Now Even Easier to Use
NEW! Automatic Updates - No Need to Upgrade the Application
NEW! Defrags Mount Points
Quick and detailed Fragmentation Scan
Easy Step-By-Step Wizard Format
Thoroughly Defragments Window XP's Restore Points Files
Defragments Free Space
Optimizes file location for greater performance
Provides Detailed list of Most Fragmented File
Supports removable drives
How is Disk MD 3.0 different from other defrag products on the market?
#1. Like No Other Disk Optimization Product Out There
Keeping your hard drive at peak performance is essential for a well running computer. When disk performance degrades, system performance drops dramatically since the hard drive is the slowest computer subsystem. Disk MD is the perfect disk optimizer for all your PC's with great reports, fast defragmentation, and unparalleled background scheduling.
#2. A Revolutionary Scheduler
Disk MD breaks new ground allowing you to schedule and maintain all of your PC's remotely. No longer must you visit each of your PC's each month to make sure they are running optimally.
#3. Great Reports
Disk MD analyzes and reports vast amounts of information related to disk performance. Each and every time you run a disk optimization a detailed report is generated and archived. Furthermore for remote scanning and defragmentation, an optional email report can also be sent.
Get the Most Out of Disk MD 3.0
Disk MD will walk you through each step to squeeze the most performance out of your system. Also, we cannot stress enough the importance of closing all applications during the disk defragmentation.
To maximize the performance improvement from disk defragmentation, one must do more than run a disk defragger on a semi periodic basis. Routine system maintenance as listed below should always be done BEFORE a defrag, and never after.
clearing internet cache
deleting temporary files
deleting junk mail
removing seldom used programs
and so on
PC Pitstop has helped over a hundred million of computers through our free and automated diagnostics. Through these millions of interactions, PC Pitstop has developed best-of-breed applications such as Optimize, Erase, Exterminate, and Driver Alert. Disk MD continues the tradition.
If you have further questions on Disk MD before or after you buy, participate in discussion forums or check out the frequently asked questions. For questions related to your purchase, use our customer service page. The trial version is limited to scan only. Click here to purchase 1-year subscription to Disk MD 3.0 now for $29.99.